The following are extracted from "Abstracts of Thesis Presentations" for an oral presentation at the 2004 annual conference of Korean Society of Civil Engineers (October 21-22, 2004) in the field of traffic engineering.
Application and Evaluation of Two-Level Roundabout
By: Shin, Eon Kyo¹; Lee, Jang Whee²; Yim, Jeong Bin³; Jeong, Yong Woo⁴
The conventional plane roundabouts are more efficient than the conventional signaled intersection in handling traffic under light traffic load. However, efficiency tapers off due to its points of conflict. In order to relieve traffic congestion, additional lanes have been built and signalized intersections have been made. When traffic congestion was not relieved with these efforts, SPUI (Single Point Urban Interchange) has been often used. However, SPUI tends to be most effective in intersection of two roads with significantly different traffic handling capacity. However, congestion was not relieved in the intersection of two similar sized roads due to congestion resulting from the connection to roads with two-dimensional roads. As such, we propose a new two-level roundabout (TLRA) to increase the traffic handling capacity for each of the road accessing the interchange and reduce the number of points of conflict, and completed a comparison study against the conventional plane roundabout.
If it were assumed that traffic merges to the first lane in a conventional roundabout, then there would exist three points of conflict at each connecting road for a total of 12 points of conflict. However, the two-level roundabout (TLRA) would reduce the number of points of conflict to two in two regions, and reduce the amount of traffic to half for all roads accessing the TLRA.
Comparison study was conducted by varying the amount of vehicles making turns and estimating the amount of time it takes to pass the two types of roundabout. Time necessary to pass them was estimated by using TSIS, which is a widely used micro simulation method.
It was found from the analysis of time it takes to pass through the roundabout that the traffic efficiency of conventional roundabout increases as left turn traffic decreases, while TLRA could resolve a significant amount of problems facing the conventional roundabout. In particular, the roundabout with a lot of left turn traffic would benefit the most from the application of TLRA. In addition, TLRA is expected to have other benefits such as reducing the amount of traffic collision due to the reduced number of points of conflict.
Traffic control
Intersection type
Ratio of left turns
10%
20%
30%
Stop
2-D roundabout (A)
390.57
725.03
752.50
2-level roundabout (B)
135.48
141.27
146.66
Difference (B-A)
-255.09
-583.75
-605-84
Yield
2-D roundabout (A)
271.14
649.34
676.28
2-level roundabout (B)
76.91
73.65
92.01
Difference (B-A)
-194.23
-575.69
-584.27
Simulation analysis results (sec/vehicle)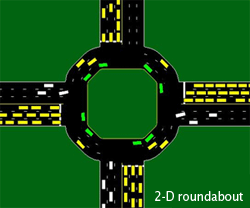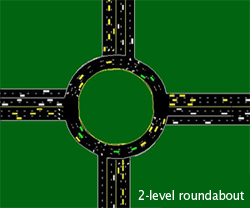 TSIS analysis screen
---------------------------------------
¹ : Shin, Eon Kyo, regular member, Korea Consultants International Co., Ltd., Road Traffic Research Center, Traffic Division e-mail: ekshin@kcieng.com
² : Lee, Jang hee, CEO of ROADNEXT e-mail: bobo@roadnext.com
³ : Yim, Jeong Bin, regular member, Korea Consultants International Co., Ltd., Road Traffic Research Center, Road Division e-mail: roadjb@kcieng.com
⁴ : Jeong, Yong Woo, Korea Consultants International Co., Ltd., Road Traffic Research Center, Traffic Division e -mail: woojjang@kcieng.com - presenter


| two_level_roundabout_thesis.doc (147.0K), Down:187